MyAvjobs Direct - Content Syndication


Post & Manage Your Jobs in One Place, They Show up in Two!
You can easily add and manage jobs on your corporate websites Employment Page by simply posting them to Avjobs.com! As you post, modify, archive and reactivate jobs on Avjobs.com, your website is instantly updated! What could be easier than that? Post and manage all of your jobs in one place, they show up in two!

No more message relays to the tech department to post or update jobs. With My Avjobs Direct, you are in full control of all your job postings.

If you already post jobs on your website, My Avjobs Direct can automate the posting process for you, saving you and your tech department time, frustration and money.
Each setup is unique to your environment. We provide you with one line of HTML that your Web administrator simply copies and pastes to your existing Employment Opportunities web page. That's it! My Avjobs Direct seamlessly integrates with your existing corporate website careers page and, also works even if you don't yet have jobs advertised on your website.
Example: Your Jobs on Your Website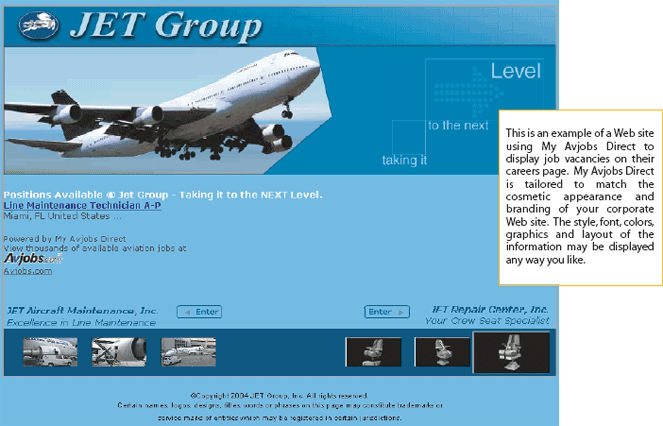 Put My Avjobs Direct to work for you today!
9609 S University Blvd Unit 630830 Littleton, CO 80163-3032 Fax 888-511-2322 www.avjobs.com
---
Avjobs, Avjobs.com and the Avjobs logo are trademarks of Avjobs, Inc. ?2016 Avjobs, Inc.