How to Automatically Remember Usernames and Passwords
using IE (Internet Explorer)

Internet Explorer can remember certain details entered into online forms, such as usernames and passwords. To turn this option on or off, follow the instructions below.

Note: These illustrations show Internet Explorer 6 in Windows XP. Other versions may vary slightly.

Go to the Tools menu and select Internet Options.
A window will open like the one below. Click the Content tab, then click the AutoComplete button.
In the AutoComplete Settings window, check (or uncheck) the options you would like to use.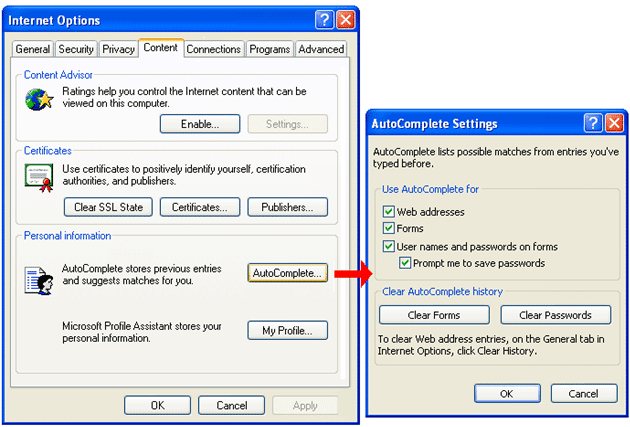 Even though you may set your browser to remember your sign in details, it is not always fail-safe. Make sure you keep your sign in credentials in a safe place for future reference should you need it.
MORE:
Any time you have forgotten either your username or password, you can always request a new
copy via email by clicking the "Forgot my Username/Password" link on any of the sign in screens..