The Aviation Employment Services Leader Since 1988
Avjobs.com has been widely acknowledged as The "Gold Standard" Aviation Employment Services leader since 1988.
FOR IMMEDIATE RELEASE
--------------------------------------------------------------------------------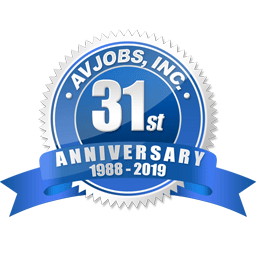 CONTACT:
Pat Smith
Director of Marketing
Website: www.avjobs.com
Avjobs.com Marks 35 Year Commitment
LITTLETON, CO – January 1, 2017 – Colorado based Avjobs.com marks twenty nine year commitment to the aviation community. "This milestone says a great deal about our dedication to the industry and our success", says Pat Smith, Director of Marketing at Avjobs.com.
Avjobs.com is a vital tool in recruitment strategies across the aviation industry. Airlines, aerospace companies, government agencies, educational facilities, business aviation and airports use Avjobs.com every day.
The company originated in 1988 as, The Airline Employment Assistance Corps. & Avjobs Worldwide. The first job opening was posted to our DOS based Bulletin Board System in 1991. In 1994, we made the transition to the Internet. The technology and design of our web-based system revolutionized the scope and direction of industry, Internet employment services. An accomplishment we are very proud of.
Today, tens of thousands of aviation employers find Avjobs.com is a crucial part of their recruitment strategy. In addition, we assist industry job seekers from high school students to seasoned professionals. This combination successfully brings employers and employees together in one central location. Our valuable resources include Job Search, Resume Service, Aviation Directory, HR Solutions, Career Overviews, Aviation Schools: The Original Aviation School Database, and more.
Our staff is absolutely delighted with the support we receive from the aviation community. We are very proud of our accomplishment, and "Thank You" for making it all possible. You can count on Avjobs.com to continue our long-standing commitment to the aviation community, well into the future.

###