The Aviation Employment Services Leader Since 1988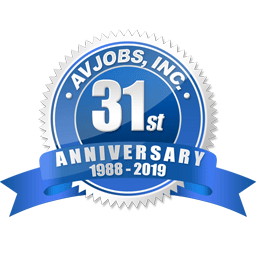 Avjobs, Inc. is an American corporation headquartered in Littleton, Colorado that designs, develops, and sells aviation specific employment information systems and employment assistance services.
Avjobs is primarily used to help those seeking work to find job openings that match their skills and location while assisting hiring managers and recruiters in locating those seeking work.
Avjobs.com is one of the largest aviation specific employment websites in the world, owned and operated by Avjobs, Inc. It was created in 1988 by the merger of The Airline Employment Assistance Corps. (AEAC.com) Bulletin Board Service (BBS) and Career System (Job Board), which were the first and most popular aviation career sites available by dial-up or on the Internet.
Avjobs pioneered the aviation job search methodology in 1992, and today, remains the longest running aviation career web site. That's an accomplishment we are very proud of. After twenty five successful years, we have grown our following to the capacity to publish and distribute job availability and candidate credentials to a large number of aviation professionals not available at other career web sites.
In 2002, we started doing business as Avjobs, Inc. (Avjobs.com). We simplified our company name to be easily recognized by word of mouth, on the web, in print and, to reflect that we work with the entire aviation industry.
Read about Avjobs company history.
Today, we remain steadfast in our approach to fill the needs of both aviation candidates and employers. Our team is aware of the challenges each of you face and our services are designed to help you overcome these challenges. Our technical staff is always implementing enhancements to give you the best solution available.
Strategic partnerships are an important part of our business and support a combined dedication to the future of the aviation industry, its workforce and success. We currently have partnerships through a variety of industry sectors to promote the advancement of aviation related products, services and employment opportunities.
In addition, through our broad portfolio of Web sites, Avjobs offers valuable advertising space on category leading properties and the network of vertical community sites developed by our affiliate program. These sites deliver a quality audience and the most sought-after aviation consumer demographics to companies looking to showcase their brand to their target audience at key points in their life.
The Avjobs staff is made up of a group of aviation professionals with experience in various sectors of the industry.
Avjobs, Inc. currently holds 2 registered and active trademarks which protect us against unauthorized use of the word Avjobs and stylized logo. Our trademarks also protect our brand identity with consumers.
Get to know us better on our Facebook page, Blog, Twitter, LinkedIn, YouTube, RSS, Aviation Ad Network, and FeedBurner. Get involved, and experience the Avjobs difference today!