You're looking for new customers. Bet they're looking for you, too.
With an Aviation Ad Network ad, you can be found by people who are searching for exactly what you have to offer. It's how you can reach the right customers or applicants at the right moment, and we'll even help you create it.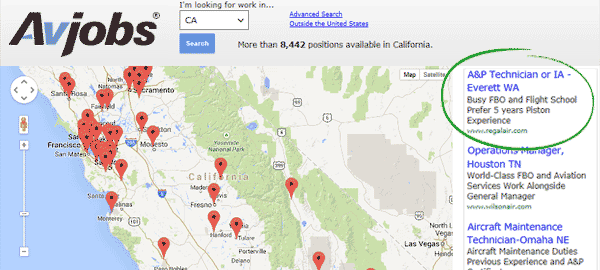 Get $25 free credit when you open an account with $5*
For free setup support call: 1-303-683-2322
*Aviation Ad Network is an aviation exclusive advertising network. All ads are subject to approval.

Call us at 1-303-683-2322 for free set-up support (Mon–Fri, 9 am–5 pm MT).
Don't I already show up on Avjobs?

Your current customers probably search for your business by name, which makes you easy to find in search results. Prospective customers however, tend to search by topic and location, so you're less likely to show up.
So how does my ad work?

Simply write your ad, choose some search terms that describe your products, services, or job openings then set a budget. When prospective customers search for what you offer, your ad is much more likely to be seen by them.
Sounds great, but how much?

It's up to you. You only pay when someone actually clicks on your ad to get more information. Just set a budget you're comfortable with, and adjust it as you see results.
Terms and conditions for this offer:
By submitting your email address you agree to occasionally receive help and tips on how to get started with Aviation Ad Network or related promotions. If you do not wish to receive such email you can unsubscribe anytime.
In order to activate this offer, you need to enter the promotional code through the Billing tab at the time of your account set up.
Promotional codes have no cash value and entry of the promotional code serves only to add additional complimentary credits to your account.
Your account must be successfully billed by Aviation Ad Network at the time of creation and remain in good standing in order to qualify for a promotional credit.
The promotional credit will be applied immediately upon successful account creation, as long as you've activated your account using the promotional code stated in the offer. Once applied, the promotional credit will appear on the Billing summary page in your account.
Offer available only to new customers with aviation related products, services, or job opportunities.
Aviation Ad Network is an aviation exclusive advertising network. All ads are subject to approval.