Real-Time
Banner Advertising
Instant access to Avjobs banner ad placements. Start with as little as $5
You're looking for new customers. Bet they're looking for you, too.
With an Aviation Ad Network ad, you can be found by people who are searching for exactly what you have to offer. It's how you can reach the right customers or applicants at the right moment, and we'll even help you create it.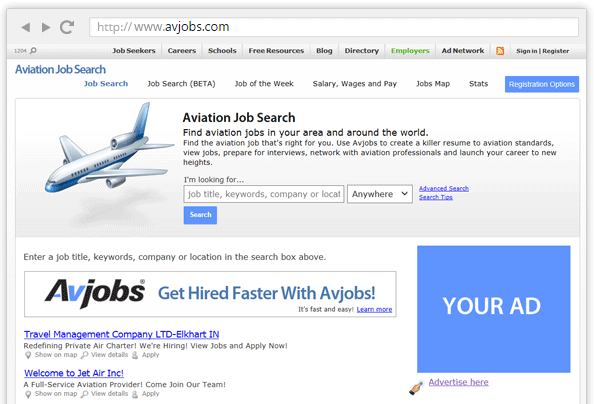 Call us at 1-303-683-2322 for free set-up support (Mon–Fri, 9 am–5 pm MT).

BANNERS & PLACEMENT

Built-in ad serving and reporting make it quick and easy to get started. Target by geography, job category, time of day and more.
Click, conversion and revenue tracking make optimization easy.

REAL TIME BIDDING

Set your daily budget and enter your bids. Make targeting and bidding changes on the fly. All statistics are available in real time.
Bidding is in $/CPC. The highest bidder's ads are shown first.

GET INSTANT ACCESS

Sign up for free and start creating your campaigns today. Your ads won't start running until you are ready to fund your account.
Once you signup, call us. We can walk you through the process.
Signup for Instant Access

It's up to you. You only pay when someone actually clicks on your ad to get more information. Just set a budget you're comfortable with, and adjust it as you see results.