At EAA AirVenture, Eclipse Aviation, manufacturer of the world's first very light jet (VLJ), unveiled a new concept aircraft. The ECJ is a single-engine turbofan powered, V-tail aircraft the company will use to conduct market research on the emerging single-engine jet category. Until today, Eclipse's concept jet had been kept completely under wraps, with very few of the company's employees aware of its development.
Eclipse officials tell AvjobsWeekly their ECJ program is designed to help the company analyze demand trends within the growing single-engine jet marketplace, and gain customer insight on potential future aircraft products and designs. The initiative is modeled after the automobile industry's concept cars, which showcase advanced styling and technology to assess customer reactions to new car designs which may or may not eventually be produced and gauge the potential market size.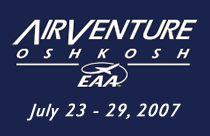 AvjobsWeekly spoke with Mark Page, the chief scientist that led the engineering team for this new development program. He discussed the collaboration effort involved with such a project and also offered his insights for aspiring aeronautical engineers hoping to reach their lofty goals. Our video team also flew around the AirVenture show grounds and invite you to come along for the ride. Stay tuned there is much more to come from EAA AirVenture Oshkosh 2007..."