Flight simulation is an integral part of aviation training but has always been considered costly to many prospective pilots. To that end, Microsoft Corporation developed a software program that provides realistic virtual flying scenarios developed for home-based personal computers (PCs). The product is not new, and in fact, Microsoft Flight Simulator is nearly 25 years old with the latest version, Flight Simulator X, as the most significant upgrade to date. In addition to the flying, the program offers dozens of articles covering basic and advanced topics, as well as lessons with a virtual flight instructor. While some may view this product as a game, others users (such as flight schools and the U.S. Navy use the simulation to provide important ground-based virtual training to their pilots.
As with others aspects of the information technology industry, the advent of flight simulation has created niche aviation-related software design careers. Microsoft, for example, prefers to hire designers with aviation backgrounds to join their Flight Simulator design team called ACES Studios. AvjobsWeekly met with Hal Bryan, a Microsoft Flight Simulator community representative that was happy to detail a new expansion pack for the product and also discuss the unique career path he and other software developers opted to follow.

Stay tuned for more from EAA AirVenture 2007!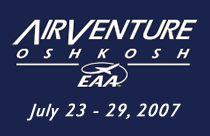 Today's webcast also features a special treat: a video collage of scenes containing historic military aircraft in action and an interview with a World War II veteran that has flown many of that era's bombers. From virtual training to historic real-world flying, we invite you to sit back, relax and enjoy our continuing coverage from Oshkosh, Wisconsin.